What is DCLICK: An Incentivized Ad Platform by Proof of Click?
DCLICK is a project aimed to connect Creators and Advertisers. The Creators can include an advertisement in their contents and receive the rewards based on content click. The Advertisers can promote their own content in DCLICK as well with almost no charge.

The Creators receive rewards from the clicks of links and views of clips from any blogs or movies via DCLICK. The producers receive more rewards compared to other platform and advertisers can promote with almost free of charge because of Token Economy.
How to use? - [Earn Profits]
Sign In via SteemConnect.


You can select Overview Tab to check your current revenues.
Upload posts in Monetize Tab as usual. The posts are automatically registered in Steemit. You can click SHOW AD checkbox to see which types of advertisements are adhered to the posts.
Congratulations! The advertisement is adhered to the bottom of your registered post. You receive rewards when people click it.
The rewards will be provided by DCLICK Tokens. Tokens are exchanged to votes until SMT opens.
How to use? - [Rewards from Steem Power Lease]
Sign In via SteemConnect.
Select Delegate Tab and enter Steem Power you want to lease and click Delegate button.
You have several benefits by leasing Steem Power to DCLICK.

You receive 30% of the profit from weekly based on leases.
You receive 30% of the DCLICK Tokens that are issued daily based on leases. Tokens are exchanged to votes until SMT opens.
Your most recent posts will be advertised for free.
How to use? - [Advertise]
Access Advertise Tab
If you have an ad while it's already progressing, you will see the dash board about your ad. You can check the information about the number of clicks on your ad, cost per price and budget, etc.
Press the Start button for starting a new ad.
Enter the ad information which you want to proceed. If the URL is a steemit post, the title and content will be entered automatically.
Write down the budget and press the Start button to send the money through SteemConnect.
The transfer is completed. The process is working automatically in the background. Please wait for a moment.
Your payment is completed and you will receive dclick tokens as much as you paid. Later on, a token will be paid when the ad ends. Your ad information is now in RUNNING status. If you like, you can add more budget.
More Information
You will receive dclick tokens as much as you pay for the advertisement.
CPC does not exceed 0.1 per day. No matter how many clicks you get, the budget of a specific date does not increase.
If you run an inappropriate ad, we may suspend your ad immediately.
How the revenues are given?
If you have more than $2 DCLICK coins, you have two choices.
Exchange coins to votes. Coins are decreased.
Keep DCLICK Coins. Coins will be exchanged to SMT. ( Coming Soon )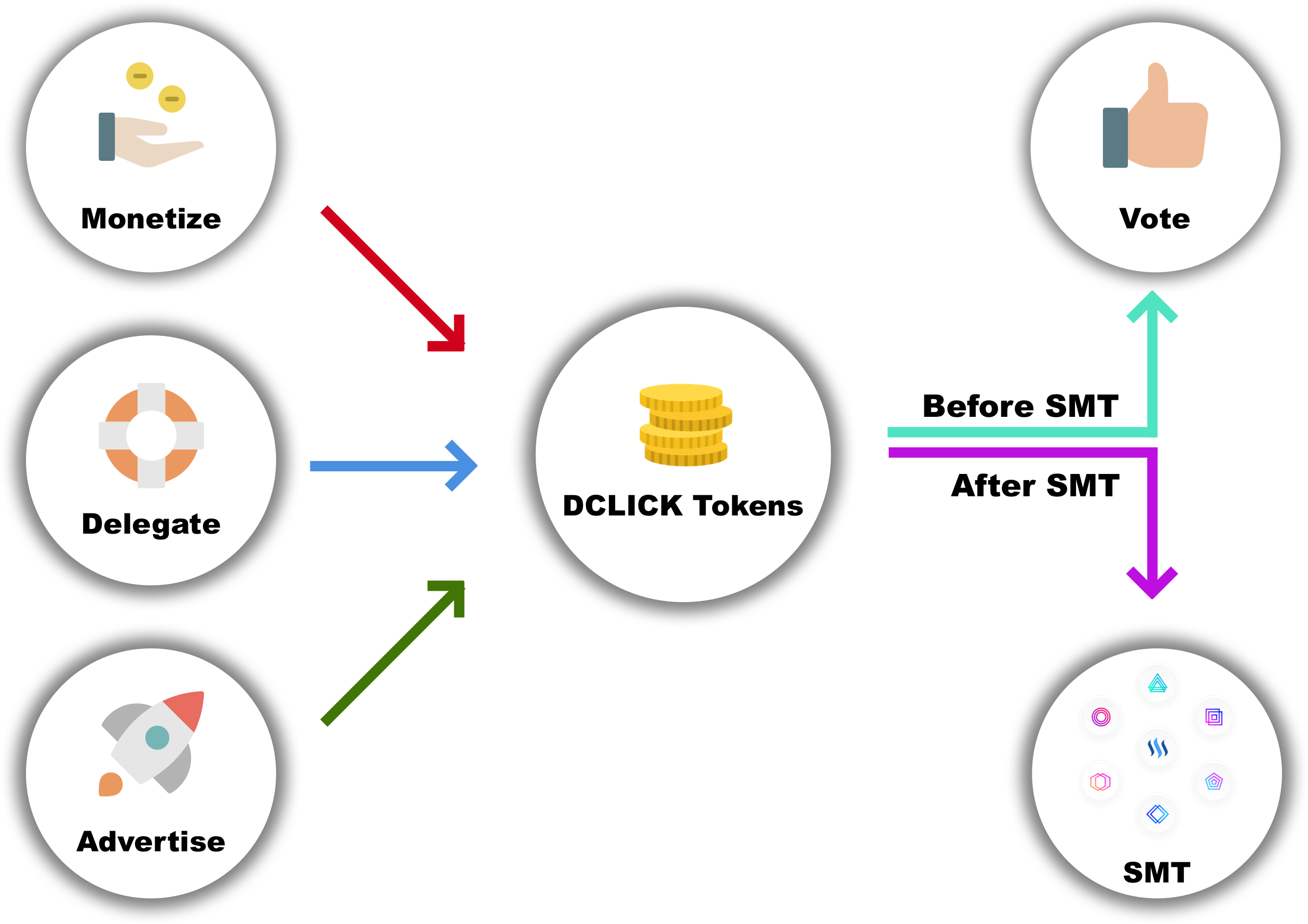 Why use DCLICK?
It connects STEEM and real world. You receive rewards from clicks from any users - both Steemians and Non Steemians. Also, you can earn rewards by exposing advertisements in any posts not limited to SteemIt.
You can receive rewards after 7 days. The advertisers can receive continuous rewards after 7 days unless the advertiser ends advertisements.
You can proceed advertisements with almost free of charge. You can deposit tokens in the platform during advertisements and receive them after they are completed.
Invalid traffics
Invalid traffic indicates the clicks which increase advertising costs or revenues intentionally. If you purposely do this action, we will consider as invalid traffics. In this situation, you might have an account suspension.
Intentionally, publishers click on their own ads or encourage others to click.
Using automated click tools, traffic sources, robots, etc.
Making changes for ad contents or directly access click url.
DCLICK needs support
Any feedback is important to us. Please contact us to channel below if you have any inquiries.